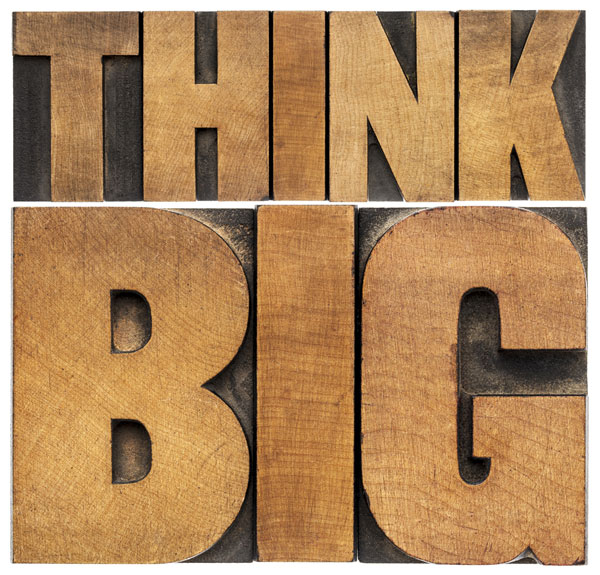 This week's reflection point: I love the concept of thinking big and in the spirit of raising the Barr, (pun intended), I have decided to start identifying what it takes to think that way. Here are my reflection points:
Identify and articulate what your future successes look like in areas of: family, life, health, emotions, business, clients, finances, relationships, spirituality, self-development, global markets, innovation, prosperity and your contribution to others.
Set big daring goals that energize you to excel beyond your expectations.
Work backwards from the future success and daring goals and create a plan to achieve each.
Eliminate excuses from your language.
Focus your action and execute your plan fearlessly.
Surround yourself with and study great minds and develop trusted relationships you can count on.
Review your accomplishments and plan, often, and calibrate as needed.
Keep developing and improving the value you bring to others and don't settle for average or mediocre.
Open your senses to opportunities around you and seize the moment to execute them.
The way to create wealth is to keep creating insightful offerings such as services, products that make you irresistible.
Become a trendsetter.
This week's tip: What are your big daring goals? If they are written down, are you on target to achieve them? If not, when will you identify them and start executing?
Raising the Barr is a weekly memo, which is always pithy, powerful and succinct. It focuses on innovative ideas by maximizing your life and business while leveraging strategy, content, technology and the web, to help you transform the success.
You may subscribe and encourage others to subscribe by clicking here.
Privacy statement: Your email address is never shared with anyone for any reason.
Check out my podcast series called Raising the Barr on iTunes.
If you'd like to reach me email: [email protected]
or call my direct line: 440-394-8004
https://www.thechadbarrgroup.com
© Chad Barr 2014. All Rights Reserved.